For over 100 years, our mission has always been the same: to design separators that satisfy the needs of our customers. Each and every one of them faces specific challenges, which is why we constantly research and develop new, targeted, and customized solutions.
Beginning with the analysis of your needs and process requirements, we provide you with comprehensive, targeted solutions, including specific consulting, technology, and service to improve the quality of your final product and thus make you more competitive. Working close to our customers, we constantly research and develop new features and new products. Innovations combined with our wide experience allow us to always deliver the right solution. We provide skid-mounted separators and plug-and play solutions that are compact in size, equipped with all the necessary instruments and controls, and are easy to operate – all for your peace of mind.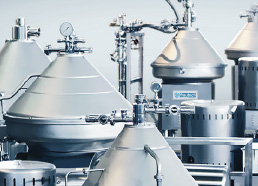 Liquid egg clarification
Chicken and meat broth
Fermentation broth
and biomass separation
Gelatine de-fatting
Essential oils
Process water recovery
Fish oil

Two-phase separators are designed for the continuous clarification of liquids. It is applied in bacteria removal, solids load reduction, cells harvesting, and any other application where fine solids have to be separated from a liquid phase, either to recover a valuable substance or to remove and dispose of a waste product. Efficient separation and precisely controllable, automated solids discharge allow the best possible separation effect. Solids from 0.5 to 500 μm, depending on their nature, can be separated efficiently in two-phase separators.
Three-phase separators are designed for the continuous separation of two immiscible liquids having different specific weights. Thanks to the action of the centrifugal force, the solids, if any, are also separated at the same time and ejected automatically at pre-set intervals whose length depends on the quantity of solids contained in the feed. Most of the models are available in either concentrator or purifier design, and the solids retaining option is also offered for some models.
Testing machines and rental
Mobile test units are also available to conduct tests on site and evaluate performance directly at your plant.